Becoming Picasso: A Masterpiece comes alive at Farm to Table(aux) Fundraiser
by Thygerson Vaun
Aug 29, 2023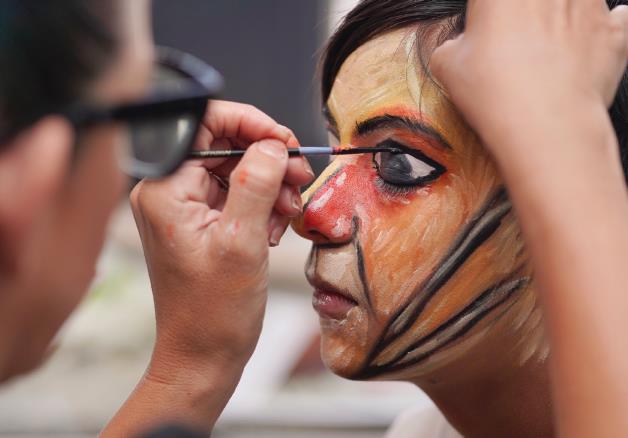 Makeup artist, Cat Webb drew eye balls on Ethan's eye lids to make the eyes wild and large like they are in Picasso's painting.
One of the most influential artists of the 20th Century, Pablo Picasso, a Spanish painter, sculptor, printmaker, and theatre designer, was the co-founder of the Cubist movement. His revolutionary artistic accomplishments and prolific work made him universally renown. He stated, "The meaning of life is to find your gift. The purpose of life is to give it away."
The 7th annual Farm to Table(aux) fundraising event benefitting the Boys & Girls Clubs of Kern County (BGCKC) helps its Club members find their unique gifts, and by raising funds for others, they are learning to share their talents for a good cause. The event will be held on Friday, October 6 and will feature artwork and performances inspired by Pablo Picasso. Farm to Table(aux) has been a premier experience since its inception in 2016, known for its fresh, local foods, original artworks created by kids that attend the Clubs, silent and live auctions, raffle items, and creative Tableaux Vignettes.
BGCKC's Executive Director, Zane Smith, says this event would not be possible without all of the talented people within our community. "So many people are involved in this event, from the theatre to craftsmen, artists, photographers, contractors. You name it and that industry is involved with it somehow to create this magic," he says. "The event is really a collaboration with the arts community and brings back a message to our kids that they are supported and the work they are doing is validated."
During the magical evening, musical numbers by the Club's performing group, Music Fusion, will delight the audience. Co-directors of Music Fusion, Jill Burdick and Frank Sierra, have designed song selection, imaginative costumes, creative musical arrangements, and expressive choreography to pay tribute to Picasso while showcasing the talented Club performers. "We strive to create performances that emulate the mood of featured artists' work," Burdick says. "For instance, Picasso's style ranged from more somber, classical themes to altered, chaotic perceptions of the world. Our aim is to pepper Picasso's themes throughout."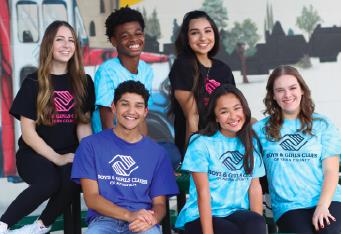 BGCKC Dance Group Music Fusion prepares to hit the stage at the upcoming Farm to Table(aux) event. Photo by Orlando Trevino.
In addition to the artist's influence, the Club members themselves contribute to the style of the evening's entertainment. "Often, I draw my inspiration from the students themselves," Sierra says. "I'll hear a particular song and think that it fits a certain performer's style or that the group of students I'm working with would enjoy performing that song. I try to make sure that the performance we do is something the students can relate to and will enjoy performing."
Music Fusion is the performance team for BGCKC. This hard-working, enthusiastic squad dedicates their time to promoting goodwill throughout the community and bringing awareness to the amazing program and opportunities available through the Club. Music Fusion strives to ignite passion in the hearts of their audiences and hopes to inspire positivity, harmony, and unity.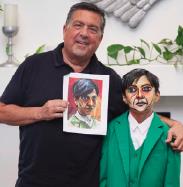 BGCKC's Executive Director Zane Smith stands next to Ethan as he holds Picasso's self-portrait, which was used as the reference photo to create the finished look.
They have entertained audiences in Bakersfield and neighboring cities for organizations like the Red Cross, Bakersfield Symphony Orchestra, Veterans Clubs, community colleges as well as private parties and company events. Music Fusion has had the honor of performing for esteemed visitors to the Club including, Condoleezza Rice, Laura Bush, Sugar Ray Leonard, and Greg Gumbel, as well as attending and performing in National and Regional conferences in San Francisco, Chicago, Dallas, and Las Vegas.
As featured on KCFM's cover this month, 11-year-old Ethan, who is also an artist and performer, has been transformed into young Picasso and will be greeting all the guests in character at the fundraising event. The makeup process takes more than an hour to complete and Ethan didn't mind spending that much time getting ready. "I thought it was awesome that I got that whole experience. It was super once-in-a-lifetime," he says. "I got to meet so many other people in the salon that helped me and guided me through what I am supposed to do while they did my makeup."
Also, done with much creativity, the event's menu dazzles with creations from Picasso's hometown region. Chelsea Dow, BGCKC's Nutrition Coordinator, has been working with this event for many years and has a culinary background that comes in handy. "I love to research and explore different recipes to get my mind flowing and thinking outside of the box," she says. "We always try to make each year bigger and better than the last year whether that is with the décor, auction items, take away items or just the experience. Expect nothing less this year, it is going to be the event you don't want to miss."
Smith, a talented artist himself, was excited to introduce Picasso to his Club members this year. Picasso brought so much diversity with his style. The art teachers could teach the younger Club members about Picasso's abstract use of basic shapes and bright colors, and as they advanced they could add more fine detail. The older Club members could learn more about Picasso's traditional portraiture where the art teachers could eventually teach color theory and how to blend things. "There is a wealth of learning opportunity with Picasso's work," says Smith. "We can start building the kids' skill level and it lets them freely evolve into more sophisticated art.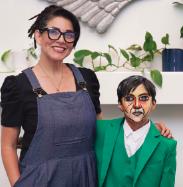 Cat is all smiles with Ethan looking just like the young Picasso self-portrait with green suit and all.
The Club tries to find areas where the members can succeed. Picasso was known for his oil painting, but he was also astute with linocuts and screen printing. A few Club members will be creating Picasso-inspired stamps to make cards. Another Club member will be creating a colored-pencil piece of art. The BGCKC art programs are not a "one size fits all," says Smith.
Other notable contributors to this event include Mackenzie Boone, Chair of the Event, Nanette Bonilla and Emily Loyd, professional artists, Marj Dow, stylist and professional artist, Jesus Fidel, an artist who created a grand-sized photo opportunity for the event's attendees. Other collaborators include Bethanie Rowlee, entertainer, Kat Webb, stylist, Barry Hill, creates unique elements for the annual theme, and Orlando Trevino, BGCKC's Communications Coordinator.
Benefitting the BGCKC, this event helps cover costs for most of the local Club members that participate in programs daily. With Clubs and school sites in Arvin, Bakersfield, Frazier Park, Lake Isabella, Lamont, Shafter, and Wasco, the Club provides services and programs to benefit the growth and success of the country's future leaders.