Apr 25, 2023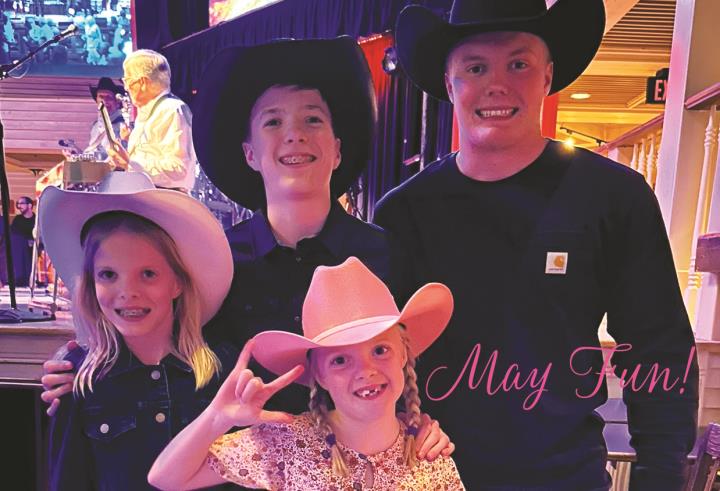 Thygerson family at the Crystal Palace
As a child growing up in Idaho, I used to watch reruns of Hee Haw with my family; never in a million years did I think I would raise my children in the "blonde guy's" adopted hometown. Since moving to Bakersfield, I have become an even bigger fan of Buck Owens. It's amazing the community he has created with the Crystal Palace, the Bakersfield Sound, and his famous song, "Streets of Bakersfield." Luckily, we were able to see 'ole Buck himself perform a few times at his place when we first moved to town in the early 2000s.
Without fail, whenever our family came to visit we always take them to the Crystal Palace for either Sunday brunch or dinner and dancing. This year during Spring Break, my two pre-teen nieces and teenage nephew along with their parents, came to sunny California to escape this winter's epic snow storms. So, inevitably we knew where we were going to spend one of our weekend nights.
Donned in cowboy hats and boots, we hit up one of the hottest places in town for some fabulous music and fun. We had a ball on the dance floor and enjoyed watching a group of square dancers visiting from Thousand Oaks. I always think I know how to line dance, but the truth is I only really know the Electric Slide. But that doesn't stop me from clumsily copying others and their moves. I even tried to square dance, but realized pretty fast I have no clue how to do that. The great thing about Buck's place is that no one cares how you dance, they only want to see you have fun and enjoy your night.
Bakersfield is home to a lot of people who care deeply about this community and want to help make it a better place to live. One mom, featured this month in the article, "Hello, Happy (Joyful) Mama: Jennifer Williams-Cordova," by Callie Collins on page 12, helps spruce up Bakersfield with her art. By day she works as a graphic artist at Willis & Williams Design Studio and in her free time she paints fantastic murals around town. She is also an acclaimed children's book illustrator for the series, "Indy, Oh Indy," by Teresa Adamo.
With the amazing people and fun places to explore, May is a great time to set out for an adventure. In this month's "Readers Respond," KCFM asked our readers what local event or upcoming happening they are looking forward to this season. Some of the answers ranged from track meets to the wildflowers to farmer's markets. To see the complete list, turn to page 10.
This summer, make sure to take advantage of everything our unique landscape offers. With all the excess rain we have been getting lately, experts say that the wildflower season should be one of the best on record. There are so many places to go and sites to explore in our backyard. In the article, "11 Ways to Plan Your Family's Best Summer Ever," on page 14, Callie Collins gives you tips on how to make the most of our summer break from school. She says it's not only important to make a bucket list and plan out trips, but it is also important to have some intentional downtime. No matter what you choose, make sure to have fun and create some core memories.
May is such a magical month with graduations, end-of-school parties, and beach trips that ring in the start of summer and all that goes with it. I love both lazy days and the ones filled with adventure and sightseeing. One thing is for sure – Bakersfield and the surrounding area has a lot to offer. So, dust off your dancing shoes and hit the floor at Buck Owens' Crystal Palace or take a line dancing class to make sure you know the moves when the time comes. Or, you can also dance in your pool with some good music blasting or put on Just Dance in the comfort of your living room! Whatever you do, celebrate this time of year and enjoy the beginning of summer!