Chocolate Mint Mousse Pie
Feb 26, 2023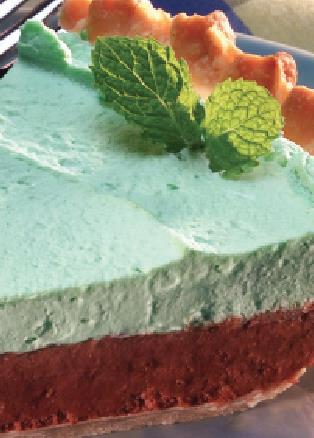 Each year on March 14, math aficionados around the world celebrate the mathematical constant known as pi, which is represented by the Greek letter "pi." Pi relates to the ratio of the circumference of a circle to its diameter, which comes to approximately 3.14159, but goes on infinitely. The celebration date is significant because it corresponds to the first three digits of pi, or 3.14.
While discussions about math and ponderings on pi in particular can fill the day, this calendar event also marks the opportunity to dig into pi's homonym ... pie. Calculating circumferences and diameters may be even more intriguing when using an actual pie. Any pie can fit the bill – but in honor of St. Patrick's Day, why not serve a Chocolate Mint Mousse Pie! Irish eyes will be smiling!
INGREDIENTS
1 tsp unflavored gelatin
1 Tbsp cold water
2 Tbsps boiling water
1/2 cup sugar
1/3 cup HERSHEY'S Cocoa or SPECIAL DARK Cocoa
1 cup whipping cream (1-2 pt) cold
1 tsp vanilla extract
1 8-inch or 9-inch pie crust baked, cooled
1/2 tsp peppermint extract
2 Tbsp powdered sugar
4/5 drops green food coloring
DIRECTIONS
1) Sprinkle gelatin over cold water in small cup; let stand
2 minutes to soften. Add boiling water; stir until gelatin
is completely dissolved and mixture is clear. Cool slightly,
about 5 minutes.
2) Stir together sugar and cocoa in medium bowl; add
whipping cream and vanilla. Beat on medium speed
of mixer until stiff, scraping bottom of bowl occasionally.
Add gelatin mixture; beat just until well blended. Pour into
prepared pie crust.
3) Prepare Mint Cream Topping; Beat 1 cup cold whipping
cream, 2 Tbsp powdered sugar, 1/2 teaspoon
peppermint extract and drops of green food color
in medium bowl until stiff. Spread over filling. Refrigerate
at least 2 hours. Cover; refrigerate leftover pie.
Recipe Courtesy of Hershey's.