Dec 27, 2022
The mess and joy of the holidays may seem glorious in the moment but the season's cheer tends to fade as the calendar turns to January. All the trappings of festive bliss can feel overwhelming after the occasion. Here are 11 ways to make an intentional shift into 2023.
Make a plan:
Prioritize which areas need your attention. Notice what nettles you and create a list. Try a stack of index cards and number them with tasks written on each. Renumber them as you progress through the deck if your priorities change.
Add in daily use items:
Don't forget to address the daily use items that almost certainly need maintenance. Purse, car, closet, drawers: note what bothers you and be sure those issues are part of your plan so they don't continue to go unorganized.
Buy supplies:
Do you need containers and cleaning supplies? Budget those into your 2023 plan, especially if you have an ongoing cleaning routine. Buy what you need for January to avoid running out to the store and losing momentum.
Buy a planner or figure out a digital version:
Whether on paper or online works best for you, decide on a system where you can outline your time and track your progress. As with any new habit you want to cultivate, giving it a line item in your calendar will help.
Schedule time:
Organizing your space can only happen if you organize your time first. Figure out how you will dedicate time to the tasks you have planned. Whether it's 20 minutes a day set aside to fulfill a designated purpose or allocating an entire afternoon, make the most of your time, which is truly life's most precious resource. Use your planner to make it happen.
Start with cleaning:
Before you can organize, clean the basics like floors, blinds and sheets so you can work in a clean space.
Hire housekeeping help if needed:
Budgets are tight but consider making changes to get a deep clean from a professional cleaning service. Consider it an investment with immediate returns as well as long term gains to get rid of years of cobwebs, dust and dirt in places you may be used to leaving as they are. Consider trading services if you can make it worth another person's time to clean for you and you can provide babysitting, baking or other life skills or professional services in exchange.
Put away all holiday decor:
Change your perspective by storing items, throwing away what will not work next year and moving on with your surroundings.
Figure out repetitive tasks:
Laundry and dishes are part of daily life. Devise a routine that works for you, whether it's one load of laundry a day or a dedicated laundry day each week, for example. Don't let it pile up to clutter your space and your mental health. Outline routines that work for your pets, children and family to cover the responsibilities you are obligated to carry out.
Don't go it alone:
There is no reason why one individual should be the sole bearer of responsibilities, especially those repeated chores that make up daily living. Every person who lives in the home should share tasks to the best of their abilities. Determine what is age and ability appropriate in your household. Most children ages 4 and up can lend a hand. Teach life skills to spouses of either gender who may have missed them and make sure your children are doing their part so they carry those skills with them throughout their lives.
Commit to change:
New Year's resolutions have one factor in common: the willingness to do things differently. Organizing will get easier if you commit to change. Small changes do add up and you will form new habits that lead to a more organized space through conscious choices each day of 2023 and beyond.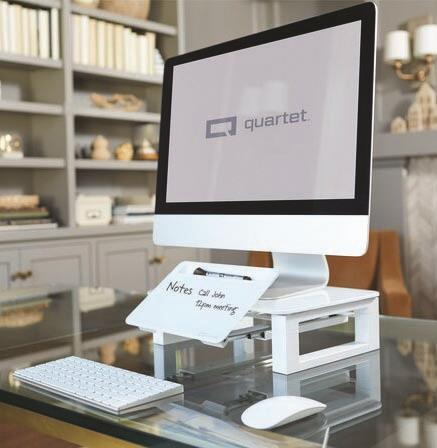 KCFM RECOMMENDS THE QUARTET ADJUSTABLE HEIGHT MONITOR RISER WITH DRY-ERASE BOARD IN CELEBRATION OF NATIONAL CLEAN YOUR DESK DAY ON MONDAY, JANUARY 9th!
The Quartet Monitor Riser allows you to declutter your desk using the neat and organized retractable GreenGuard certified tempered glass dry-erase board. The adjustable riser legs will raise your laptop or monitor to eye level ensuring comfortable posture. $75.00 www.quartet.com