Aug 29, 2022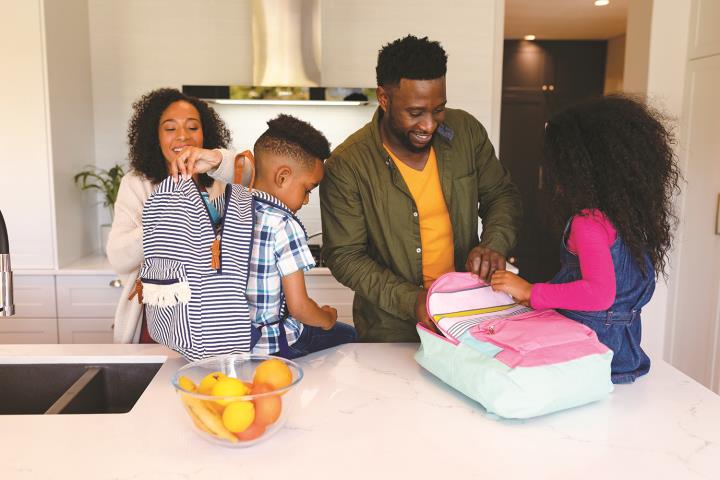 Back-to-school is the perfect time to start new habits. Streamline your routine to get out the door efficiently and make school mornings less stressful. If school is in session but getting out the door is difficult, try a different approach.
.
Make school days better this year with these 11 tips:
1. Invest in an alarm clock:
Help children get up on their own with an alarm clock in their rooms. You can add a second alarm once they're awake for when to finish brushing teeth, making beds and getting dressed to join you for the day's send-off.
2. Start the night before:
Commit to dedicating 30 minutes to prepare for the next day before bedtime, while your children are still awake to help. Find shoes and layout socks. Put your child's school clothes or uniform in a place he or she can easily reach. Check folders, fill out paperwork, charge portable electronic devices and repack backpacks. Verify your child's plan for lunch, whether that means leaving money on his or her account or assembling a lunchbox.
3. Figure out breakfast:
Lay out what you'll need for a morning meal. Decide with your family the night before what you'll eat to avoid the last minute "But I don't want that" objections. Give them something to look forward to the next morning and set the table. If breakfast feels complicated, simplify with on-the-go items like granola bars or cheese sticks. Check out our grab-n-go, easy overnight oatmeal recipe on page 21.
4. Download a chore app:
Children of the 80s and 90s may fondly remember the sticker chart. No need to make a new purchase or add clutter; download an app for your child for use on a tablet or on your own phone. Define what needs to be done each morning, list chores and expectations and choose a reward. Let school-age children learn self-efficacy as they work through their morning routine.
5. Prepare yourself:
Get your items together to leave, too. Whether you're headed to the office or back home, put your keys and wallet in a consistent place. Leave any items you need to take under your keys. Set out the next day's outfit, including shoes.
6. Designate a lunch-prep day:
Pack and prepare five days of lunches, one for each school day of the week, on Saturday or Sunday. Leave them labeled and ready.
7. Request your school's allergy list:
Although the era of homemade snacks changed with COVID, knowing what to pack and which foods to avoid is key, especially if you're sending lunch. Is peanut butter allowed at your child's school? Sesame, dairy and strawberries are familiar concerns for many families. Streamline your lunches from home by knowing those parameters.
8. Shop ahead:
Plan for grocery delivery or a wholesaler with options like pickup, delivery or mail service. Subscribe and save options may also be a good fit to avoid last-minute trips to the supermarket. Add homework supplies gluesticks or pre-sharpened pencils to be delivered periodically for school projects with items automatically on-hand.
9. Fill water bottles in advance:
A reusable water bottle has never felt longer to fill than a morning when you're in a hurry. Even if your child chooses hot lunch in the cafeteria, having a water bottle for hydration throughout the day is something most schools request. Prepare five at a time and store them in your refrigerator. If you have to leave with an empty bottle, it's not the end of the world. Schools often have options to fill water bottles.
10. Figure out transportation:
If transportation is causing delays in your morning, figure out a new option. Using the school bus may prompt stragglers to get ready rather than be dropped off; consider carpooling with neighbors.
11. Teach your children an after-school routine:
Show them a single, designated spot to hang up backpacks, show them where to add shoes or other repeat-use items, and establish the habit of putting them there. Encourage them to think through any needs for the next day. Check calendars at least once a week to prepare for upcoming needs to order, plan or prepare ahead of time.