Jul 29, 2022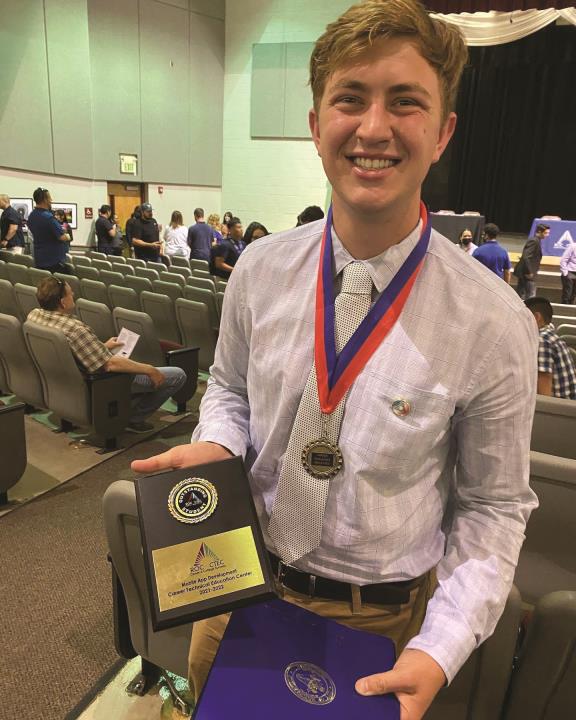 Eighteen-year-old Caleb Bailey works as a Solutions Engineer at Stria, LLC thanks to doors opened for him his senior year of high school through the Kern High School District's Career Technical Education Center (CTEC)'s mobile app program. This Liberty High School (LHS) graduate was named 2022 Mobile App Development Education (MADE) student of the year because of his valuable skills and unsurpassed work ethic.
Starting his college career at Bakersfield College, Bailey says that his job with Stria, LLC gives him an advantage for his future career. "I'm able to start college with a great job and work my way up in that company and learn skills for my desired field," he says. "It's a great support for college because the company plans to work around my schedule."
Under the direction of his MADE instructor Walter Suazo, Bailey began his internship with Stria, LLC during the second semester of his senior year. He spent his time being trained in DocuSign, an e-signature software, which consisted of coursework and a comprehensive capstone project where he created a work-flow system for a mock company. Once completing his internship and an interviewing process, he was hired on full-time. Stria, LLC is a local solutions company that automates and makes processes for businesses more digitally compatible.
Like many students, Bailey had tried a number of subjects looking for the right fit. He joined Project Lead the Way at Rosedale Middle School and even took classes for it at LHS thinking he might want to be an architect or work in the biomedical field. Throughout his high school years, he became more interested in tech data science, so when his mother told him about CTEC, he knew this was a place he wanted to attend to hone his computer and coding skills. CTEC and the Regional Occupational Center (ROC) are a unique educational experience where high school students can become career ready for their desired field with no cost to those enrolled at Kern High School District.
Suazo, CTEC Instructor for Digital Marketing and Media Design and MADE, encourages students who are juniors or seniors to take courses at CTEC or ROC to gain real-world experience that could even translate to a job right out of high school.
"CTEC is a great opportunity for KHSD juniors and seniors looking for career opportunities or college preparedness. Many of our programs offer industry certifications, internship opportunities or college credit through dual enrollment," he says. "Many of the students in my Digital Marketing and Media Design and my MADE programs have successfully completed internships and have gained jobs right after graduation. This is due in part to industry partners who are involved with my programs and foster career success for our students."
Bailey says his time at CTEC not only taught him the "hard" skills of coding and mobile app design, but he learned the "soft" skills of interviewing, marketing, networking, and fundraising. He learned the Swift coding language, which is used for IOS application (Apple products), and also how to receive his own developer license and/or become a freelancer.
With a three-member team, Bailey and his group created a mobile app called "MEchanic," where the user has the ability to fix car or appliance issues through their app information and diagnostics. They had to showcase their app and try to sell it both to their target user audience and potential investors.
"I learned a lot about being able to communicate with people, networking, and being able to meet deadlines. I learned important adult skills like working hard with your team, being prepared, and having something good to present," Bailey says.
In addition to computer technology classes, CTEC and ROC offers classes and certifications in health care careers, dental hygiene, sports medicine, video production, video game design, and so many other cutting edge careers.
"CTEC and our sister campus ROC have over 35 career technical education programs available at no cost to currently enrolled KHSD students once they enter their junior or senior year. I would encourage any parent or family member to talk to their student about applying and getting a kick start to their future," Suazo says.
CTEC is located at 7301 Old River Road, Bakersfield and ROC is located at 501 S. Mount Vernon Avenue. CTEC offers classes in healthcare, business banking and finance, dental hygiene, fire technology, robotics, information technology, video production, and more. ROC offers classes in industrial technology, business, cosmetology, culinary arts, law enforcement, veterinary tech, and more.
Both campuses have an a.m. session from 7:30 a.m. to 10:30 p.m. and a p.m. session from 11:45 a.m. to 2:45 p.m., night sessions on Tuesday, Wednesday, and Thursdays from 5:30 to 8:30 p.m., except for the Cosmetology program which is 7:30 a.m. to 2:45 p.m. Monday through Friday. Transportation is provided from each student's home school to the CTEC or ROC campuses. Also, breakfast, lunch, and dinner are provided based on your child's session. To find out if this unique educational experience is the right fit for your family, you can check out the catalog online at https://roc.kernhigh.org/ or talk to your student's high school counselor.