Jul 29, 2022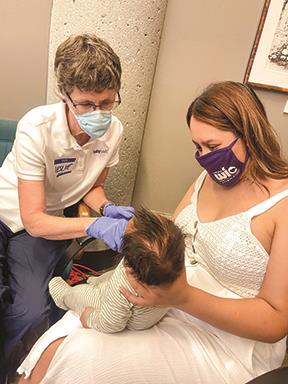 This August, the Kern County Breastfeeding Coalition and local breastfeeding support community partners are joining the celebration for National Breastfeeding Month! We want you to know that breastfeeding matters. It's important for a baby's health, preventing illness and infection and allowing for normal development while providing the optimal building blocks of nutrition during the most important period of growth. It is also important for a mother's health, reducing the risks of several types of cancer and improving metabolic and cardiovascular outcomes. Critically, breastfeeding for at least 2 months significantly reduces a baby's risk of SIDS.
If your baby is born in a hospital, be sure to take advantage of all the help you are offered there. If your baby is born at home or in a birth center, your midwife and doula can help you get off to a great start. Once you are home, be sure to check in with our local breastfeeding support community, even if it feels like things are going well. You can learn so much by attending a support group or just talking to a trained lactation care provider about what to expect as your baby grows.
It's especially important to seek help if you are having problems or if someone is telling you to feed your baby formula or use a breast pump. You don't want to wait and see if things get better - this is the time to be proactive and ask for help as soon as you need it. It can mean the difference between meeting your own breastfeeding goals or stopping before you really wanted to.
Remember that there are several myths circulating around breastfeeding, milk production, and things you should or should not do if you are breastfeeding. If you are ever unsure about the advice you are receiving, reach out to our local breastfeeding support community for evidence-based information.
There are so many ways you can get breastfeeding help in Kern County! Here are a few evidence-based and local breastfeeding support organizations.
The Special Supplemental Nutrition Program for Women, Infants and Children (WIC) serves infants and children up to the age 5 and people who are pregnant or have given birth or experienced pregnancy loss. WIC helps families by providing nutrition education, breastfeeding support, benefits for healthy foods, and referrals to healthcare and other community services. In Kern County there are two local agencies: Community Action Partnership of Kern (CAPK) WIC and Clinica Sierra Vista WIC. To find a WIC office nearest you, visit myfamily website: https://myfamily.wic.ca.gov/Home/WICOfficeGrocer
Baby Café Bakersfield offers free breastfeeding support in person and virtually on Zoom. Whether you are pregnant, breastfeeding, or wanting to resume breastfeeding, you can drop-in to a meeting on Tuesdays between 11:30 and 1:30 at Beale Memorial Library. For more information, visit the Baby Café Bakersfield website at: www.babycafebakersfield.org.
There are also private lactation consultants practicing in Bakersfield, Tehachapi, Delano, Ridgecrest, and everywhere in Kern County! You can use the directory at www.uslca.org to find one nearest you.
Kern County Breastfeeding Coalition (KCBC) consists of a team of healthcare providers and professionals from all over Kern County that are dedicated to improving breastfeeding outcomes and increasing access to proper breastfeeding support. For more information, visit: https://kernbreastfeeding.wixsite.com/kcbc
Everyone in our local breastfeeding support community is committed to making sure that you get all the help and encouragement you need to meet your own breastfeeding goals. We invite you to reach out when you are pregnant for more information about getting off to a great start and keeping in touch once your baby is born to ensure you have all the support you need to keep going!