Hello, Happy Dad: Kurt Keckley
Enter to Win Our Hello Happy Dad Summer Toy Giveaway
by Callie Collins
May 31, 2022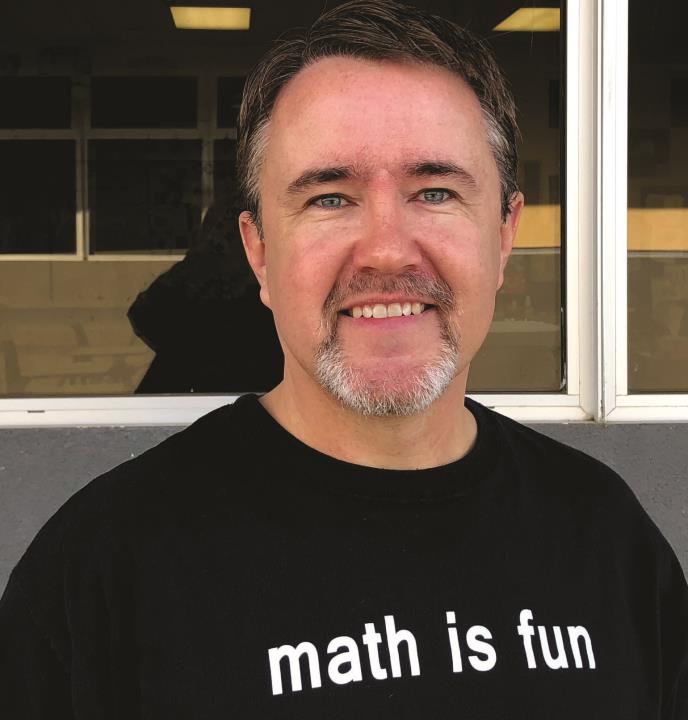 A Place for All: Kern County Teacher of the Year Honoree Kurt Keckley Shares Insight on Learning, Life and a Sense of Belonging
Kurt Keckley, special education teacher, knows the importance of finding one's place in work and life. One of three local teachers named Kern County Teachers of the Year, Kurt is a California State University, Bakersfield graduate whose degree is actually in accounting. After a surprising career pivot, he found a calling within education that proved more rewarding and a better fit than he could have anticipated upon making the shift more than two decades ago. Changing people's lives came as a result, more so than just his own, with a legacy evident through his students' ability to succeed.
Kurt credits his wife, Sondra, then a high school biology teacher, with inspiring him to try teaching.
"Unlike people in a lot of other professions, my wife was excited about what she was doing and returned day after day with so much energy and enthusiasm, inspired by the students," said Kurt. "I realized right away teaching beat the heck out of sitting in front of a computer when it came to feeling fulfilled. The students are real people, with real lives, and by investing in them as a person, you start seeing changes. That really filled me up at the end of a work day and unlike in accounting, I was not exhausted in the same way. Instead, that sense of responsibility has driven me ever since. I am a senior teacher and if I'm not there, some kids won't cross the line and graduate. You show up for the kids."

Kurt is known for doing so much more than just showing up. At the time of this interview, he had just returned from a few days away from the classroom after being ill with COVID. He returned when it was safe to do so, anxious to help students end their semester with what they needed from him before the end of the school year.
Kurt returned to college to complete his teaching credential, originally with the idea of becoming a history teacher. He noticed the constant demand for special education professionals and was hired as an adult aide at South High School. The next year, he arrived at Arvin in October on an emergency credential. He was later hired at Frontier High School around 2007, where he has helped thousands of students.
"I love history but when I decided to go to work as an aide, I did that with the idea of seeing what classrooms are really like. If you have been in a classroom since the '80s, what do you really know about classrooms? Well, you don't, until you've been there and you've been into a room and seen it now," said Kurt. "You hear of special education, your mind probably gravitates to several intellectual and physical disabilities but it's not always that at all. There are so many students who sat where you and I sat, who have very typical social skills, that nothing about them would make you think they'd be any different. I didn't know this population was there and when I went to work with them, I said 'These kids are the ones who really need me.'"
Students know Kurt as Mr. Keckley, a patient teacher who helps a lot of kids with their work, especially math, and runs the school's TITAN gaming club and Esports team.
"I love board games.Since my days at Arvin, I have run a club centered on games, board games, card games, games of all kinds. The club is a mecca for that kid. You know which one, the one who feels awkward and different," said Kurt. "That's what that club does, help students realize 'I am not alone.' For kids who feel lost, this is a home. They must interact with each other, engage in teamwork and take on responsibility as they run the club. Some years, these students will go out and look for the other kids who are sitting by themselves who are pretending to be on their phone but aren't, pull them in and form a community."
As detailed in his Teacher of the Year summary, Kurt is also known for designing a game based on World War I called "Fields of Despair," which GMT Games published in 2017. Lt. Col. Channing Greene contacted Kurt about putting the game to use for cadets in his United States Military Academy course at West Point professor. Kurt found ways to make the game shorter and more suitable for that unique classroom setting and Lt. Col. Greene thanked him for "his extraordinary contribution to the teaching profession and to his country."
Kurt recalled beginning an academic year with an "I love math" t-shirt the students teased him about. One of his proudest moments, though, was when the entire class showed up at the end of the year with t-shirts bearing the same slogan. They took a group photo he continues to treasure.
"I have learned lots of tips and tricks, ways to break things down, as a lot of what I'm doing is teaching math to struggling students," said Kurt. "There are very smart people who cannot reach students because they think everyone is right there with them on basic concepts and they are not. They've got to break it down more, a lot more. It takes just incremental steps sometimes to build on a person's knowledge."
Kurt credits teaching with helping him be a more understanding father. He and Sonya, now a reference librarian at Bakersfield College, are the parents of Emily, a Bakersfield College student, and Alex, a sophomore at Frontier.
"Anytime my own kids had struggles at home, I had skills to break whatever it was down into small parts. It has definitely made me a more willing participant in understanding where they're coming from," said Kurt.
That sense of empathy has led to empowerment for his students.
Mentoring has also been an important facet of Kurt's career. He served as a mentor to a student who did not graduate high school on a traditional path and faced the prospect of enrolling in adult school at Grizzly Youth Academy in San Luis Obispo. A mentor was required for participation and he selected Kurt, who agreed to participate, which required frequent weekend drives of more than two hours each way. With much needed support, he graduated high school.
"My job has really been about reaching out to kids when safe spaces are hard to come by," he said. "You never know who would've been lost along the way without it."
Along with fellow honorees Kelsea Linnell of Elk Hills School and Cato Middle School teacher Hanna Rahberger, Kurt is now eligible to apply for the California Teacher of the Year program. According to the Kern County Superintendent of Schools' press release announcing the finalists, "The two mostcompetitive applications as determined by the Kern County Teacher of the Year Selection Committee will be submitted to the California Department of Education (CDE) to be considered for the California Teacher of the Year honor."
Four questions with Kurt KeckleyQ. What do you wish the public better understood about teachers?A.
What I wish the public better understood about teachers is that our role is not always what it appears from the outside. Parents may perceive the curriculum as easy but could you take the kids and reach them? Really reach them? Could you take the supposition going in of 'I cannot' from the students' perspective and make it 'I can' while meeting every student's unique needs, while maintaining discipline, while loving them, while making it all resonate and while planning a nice lesson every day? The emotional drain in teaching is real but the giveback from the kids is huge. I wish parents would understand each student is unique and we are doing our best to not only reach them but help them succeed.
Q. How can parents better support teachers?A.
Actually, I see it the other way around. Other teachers might not like that answer and that's fine but my role is to support parents. We are all a team here, all on the same side, all rooting for the same kid. Offering a kind word to a teacher when something is going well can be really helpful. Parents should never feel like a bother. I love the parents that are always willing to reach out right away and concerns with a student so they don't become bigger concerns. Parent communication and an occasional letter are key. I save everything I get, every single letter.
Q. Teaching special needs students can be particularly challenging. How do you find respite as a teacher? A.
When you put in the hard work, the kids give it to you. They start believing and achieving. I do relax after school and I don't bring it home with me but I am tremendously organized. That comes from the accounting side of my life. You always want to work a little harder if you can, every single day.
Q. What do you want for Father's Day?A.
I just want time with my kids.