Blog Listings
Baked Vegetarian Taquitos

Family Features
Apr 10, 2023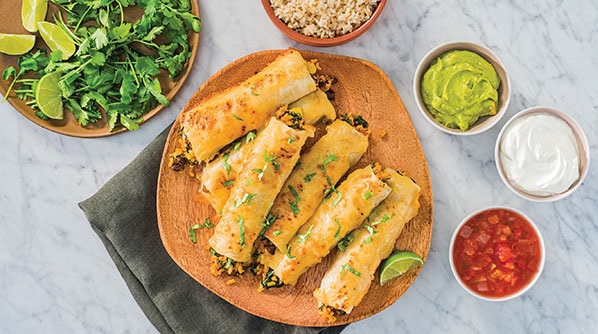 Whether you're a vegetarian, vegan, considering making some lifestyle changes or just want to give an on-trend meal prep strategy a try, going meatless can help reduce your intake of red and processed meats, decrease greenhouse gas emissions that cause climate change and save money on substitute ingredients like grains, vegetables, fruits and legumes that are often cheaper than meat.
For example, starting with a versatile pantry staple like Success Brown Rice can make mealtimes quick and easy. Ready in just 10 minutes without measuring or the mess, the fluffy, nutty, non-GMO rice is free of MSG and preservatives, lending itself perfectly to satisfying and hearty meals like these Baked Vegetarian Taquitos. Packed with protein and all nine essential amino acids, the quinoa is a good source of fiber.
Prep time: 15 minutes
Cook time: 20 minutes
Servings: 4
1 bag Success Brown Rice
1 cup shredded collard greens, packed
1/4 cup frozen corn
1 cup canned black beans, drained and rinsed
2/3 cup canned pumpkin puree
1 1/2 tablespoons taco seasoning
8 flour tortillas (6 inches each)
1 cup Monterey Jack cheese, shredded
2 tablespoons olive oil
sour cream, for dipping
salsa, for dipping
guacamole, for dipping
fresh cilantro, for garnish
Prepare rice according to package directions; add collard greens and corn to water during last 5 minutes.
Preheat oven to 450 F. Drain rice and vegetables; transfer to saucepan. Stir in black beans, pumpkin puree and taco seasoning.
Spoon 1/3 cup rice mixture into center of one tortilla; sprinkle with 2 tablespoons Monterey Jack cheese. Roll up tightly. Place seam side down on parchment paper-lined baking sheet. Repeat with remaining tortillas, filling and cheese. Brush taquitos with olive oil; sprinkle with remaining cheese.
Bake 10-15 minutes, or until tortillas are crisp and cheese is melted.
Serve taquitos with sour cream, salsa and guacamole for dipping. Garnish with fresh cilantro.