Get Your Pet Ready for Halloween
Sep 27, 2023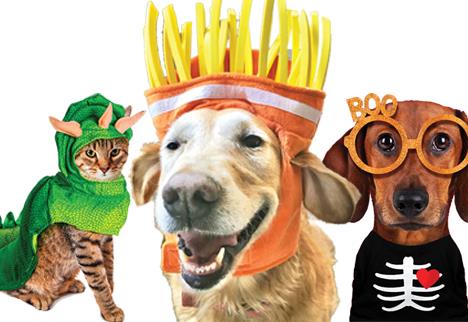 Dressing up for Halloween is one of the more enjoyable ways to celebrate the spooky season. It's not uncommon for people to be planning their costumes well ahead of Halloween, and seeing as the pop-up retailer Spirit Halloween starts taking over vacant properties beginning the middle of August, it's never too early to begin thinking about the thrills, chills and candy to come.
Pet owners often choose to include their companion animals in Halloween festivities. Data from a 2022 PetSmart national survey unveiled that more than 75 percent of pet parents planned to dress their pets up for Halloween and other fall occasions. Some city-dwelling individuals even planned to match their pet's fall attire to their own. In 2019, the National Retail Federation estimated Americans would spend $490 million on pet costumes in 2020, which was more than double the figure spent around a decade prior.
Rubies, the largest manufacturer of pet costumes in the U.S. and Europe, shared these statistics in 2022, many of which will stay consistent this year.
· Vermont, New Hampshire, South Dakota, Utah, and Maine are the states most likely to have dress up their pets.
· A pumpkin, hot dog and bat are the three most popular pet costumes. Star Wars-themed costumes also are favorites year after year.
There are plenty of costumes and pet clothing designed for pets, but not all of them are recommended by humane organizations or vets. Those who choose to include pets in Halloween festivities should keep these tips in mind when selecting costumes.
· Can the pet move properly? Check to see if the clothing item is sized appropriately so that it is not restrictive. Make sure the pet can walk properly, jump, groom, and relieve itself. Do not leave pets in costumes for too long, as they may affect the animal's ability to control body temperature.
· Is your pet stressed? Look for behaviors that may indicate the pet is stressed by wearing the costume. Pets feeling anxious may groom excessively or make more noise than usual. Dogs may pant a lot or yawn. If a pet is pawing or pulling at the costume, it might be making the animal uncomfortable. Dogs tend to be more tolerant of costumes than cats, though each pet is unique.
· Can body language be relayed? Pets use body language to communicate with other animals. Costumes could interfere with that ability. If the pet will be wearing the costume indoors and not in proximity to other animals, it may be fine. Pets who will be walking outdoors and come into contact with other companion animals might act differently and other animals may act aggressively when faced with a pet in a costume.
· Is it safe? Choose costumes that do not impede the pet's vision or its ability to walk. Select materials that are fire-retardant and nontoxic.
Pet costumes are quite popular on Halloween, and pet parents can have fun celebrating while also keeping pets' comfort and safety in mind.