POP Into 2023! - Sweet-n-Salty Popcorn Pretzel Sticks
Dec 27, 2022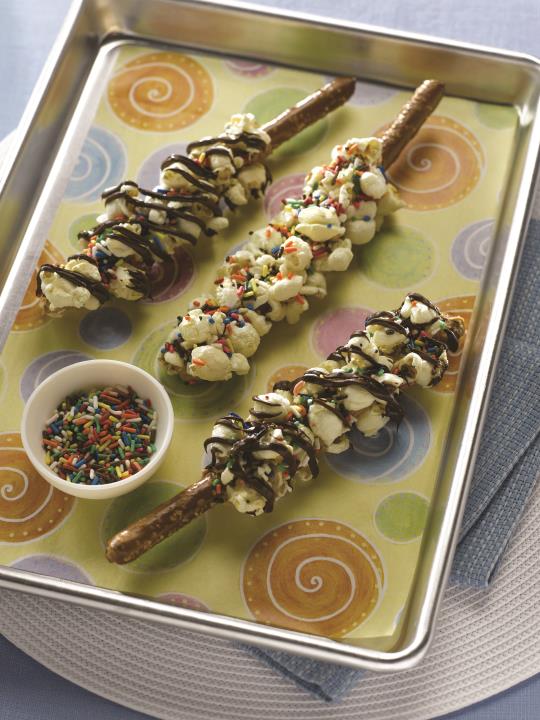 Get Messy
Learning how to create and explore is often productive (and fun) when children can get their hands dirty. Sweet 'n' Salty Popcorn Pretzel Sticks are a perfect canvas for letting kiddos work directly with the ingredients as they can roll pretzels in peanut butter, add sprinkles to their heart's content and press popcorn into their newfound favorite treat.
Find more kid-friendly recipes to get the whole family involved in the kitchen at popcorn.org.
Servings: 6
6 tablespoons peanut butter
6 large pretzel rods
3 cups popped popcorn
decorative sugar sprinkles
3/4 cup mini chocolate chips (optional)
Spread 1 tablespoon peanut butter over one pretzel, leaving 2-inch "handle" without peanut butter. Repeat with remaining peanut butter and pretzels.
Press and roll popcorn onto peanut butter to coat each pretzel. Sprinkle with sugar sprinkles.
To make optional chocolate drizzle: Place chocolate chips in small resealable plastic bag and seal bag. Microwave 30 seconds, or until chocolate is melted.
Clip small corner from bag and squeeze to drizzle chocolate over popcorn.
Sprinkle with additional sugar sprinkles. Allow chocolate to harden before serving.