Cutest Pet Photo Contest! ENTER JULY 1st - JULY 14th!
Jun 28, 2022

CALLING ALL PET OWNERS IN KERN COUNTY!
Does your pooch belong in pictures? Is your kitty cover-worthy? We want to find the cutest pets in Kern County!
Here's how to enter:
Fill out a short form and upload your pet's photo at https://bit.ly/KFCMpetcontest
Return to the website daily between July 15th and July 25th to place your vote! (One vote per email per day.)
Encourage your family and friends to vote for your pet by sharing the link on socia media.
Photos with the most votes will be named 1st, 2nd and 3rd place winners.
Winners will be announced via Kern County Family Magazine social media the week of August 1, 2022.
GRAND PRIZE:
Deluxe care package from Fur and Feathers Luxury Pet Resort
$100 gift card to Grocery Outlet on Brimhall & Jewetta
$100 Gift card to Temblor Brewing Company courtesy of Gregory D. Bynum & Associates
2nd & 3rd PLACE PRIZES:
$50 gift card from Fur and Feathers Luxury Pet Resort
$50 gift card to Grocery Outlet on Brimhall & Jewetta
$50 Gift card to Temblor Brewing CompanyAssociates courtesy of Gregory D. Bynum & Associates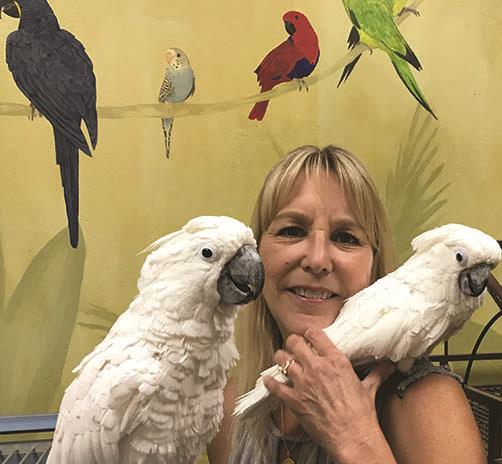 THANK YOU TO OUR SPONORS FOR THIS YEAR'S CONTEST!
Fur and Feathers Pet Resort 3329 Allen Road, Bakersfield furandfeatherspetresort.net
Pam Shockley is the proud local owner of the Allen Road location of Fur and Feathers Luxury Pet Resort. A registered veterinary technician, Pam had more than 20 years of clinical experience, including 10 years of emergency care, before open-ing the business in 2006. She is used to seeing dogs, cats, birds, guinea pigs, lizards, potbelly pigs and other household pets each day.
Boarding, daycare and grooming are the main services offered. A staff of 28 takes care of the animals with procedures in place to ensure their individual needs are met. Two 4,800 square-foot buildings at the corner of Allen and Meacham Roads make it possible for animals to be housed with ample space to enjoy grassy areas and supervised play. Dogs experience outdoor play times four to five times per day in designated groups classified by compatible characteristics like size and breed.
"We see dogs literally pulling their owners through our doors from the parking lot because they are so excited to come in and play," said Pam. "Socialization is so healthy and important for them. It can absolutely build their confidence and lets them learn how to play with other dogs. They are inherently social animals. During this time of quarantine, with less social contact overall, many dogs have only seen their owners and been in their new homes. Dogs really need to know how to be with other dogs."
Pam's previous experience with medical issues helps inform the oversight the facility offers when working with dogs in need of consistent, specialized care due to conditions like diabetes or during post-operative circumstances. She also feels strongly about educating the public on the issue of kennel cough, which can be similar to the concept of a cold for dogs that spreads during social interaction with other dogs. The importance of the bordatella vaccine to aid in prevention is key.
Pets are an important part of Pam's life at work and at home. She is the proud owner of a Doberman, a Collie, a Pomeranian-Chihuahua mix and a new poodle puppy, in addition to two cats, two cockatoos and a blue front-ed amazon that sings "God Bless America." She is also a mother of two and a grandmother of two, with plans to open a new location in Yuba City later this year.
Fur and Feathers Luxury Pet Resort is known for attention to detail and optimal care of animals, which makes the business an ideal provider for our Cutest Pet Contest grand prize.
Grocery Outlet 11200 Brimhall Road at Jewetta Ave. Derek and Amanda Steitz, Grocery Outlet Bakersfield franchise owners
At Grocery Outlet, we love brands. Like, really love them. That's why we work so hard every day to bring our customers the brands they love at prices that are nothing short of pure bliss. In fact, we've been helping customers save big since 1946.
How do we do it? With the help of our brilliant buyers who shop the world, travelling thousands of miles each year to find the most thrilling deals on brand name groceries. Whether it's through packaging changes, surplus inventory or product overruns, our buyers source it all – everything from fresh meat and produce to our natural and organic NOSH items to the WOW deals we can hardly believe ourselves.
Locally owned and operated by the Steitz Family since 2021, we deliver superior customer service to our community. So come in and see for yourself. It might seem like a dream, but we guarantee the savings couldn't be more real.
Greg Bynum Greg Bynum, local entrepreneur, has made our Temblor Brewing prize possible for each winner. See more about Temblor at temblor-brewing.com
Bynum, Inc. is a full service real estate company specializing in real estate development, architecture, appraisal-analysis, consul-tation, property man-agement and brokerage services in Bakersfield and surrounding areas.