Hello, Happy JOYFUL Mama Jennifer Williams-Cordova: Artist and Entrepreneur
by Callie Collins
Apr 25, 2023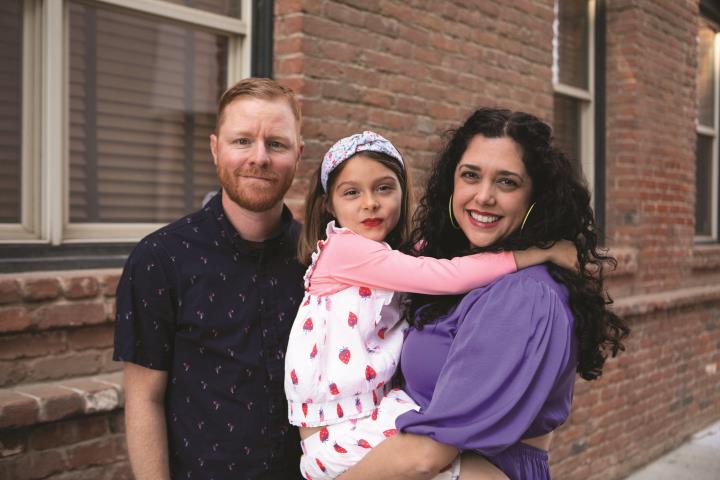 Brad and Jennifer with daughter
Where work ends and family life begins is a quiet dilemma for Jennifer Williams-Cordova but through it all, she is the creator of her own public and private joy.
"When I meet people, I usually say I am an artist or graphic designer but I'm guilty of smoothing over what I do for ease," said Jennifer, whose talents include photography and illustration in addition to working with mixed media.

While her day job at Willis & Williams Design Studio does involve art and graphic design, Jennifer's freelance work rounds out what she is best known for in Bakersfield: painting local murals as an active participant in Kern County's vibrant community. Both in Kern County and outside of it, she is also acclaimed as a children's book illustrator. The "Indy, Oh Indy" series by Teresa Adamo features her work, in which she brings to life its title character, a teridoodle who goes on regional adventures.
Jennifer, who is originally from Bakersfield, graduated from Fresno State University in 2006 with a bachelor's degree in art and design with emphasis in graphic design. She is married to husband Brad, also from Bakersfield, and they are the proud parents of a daughter, age 6.
"I traveled a lot in college and moved back after graduation. I have been a full-time working artist ever since. I thought it would be temporary but you start working and realize there are a lot of wonderful things about our community," said Jennifer. "I did not come from an entrepreneurial family. I came from a working class family and I thought it was so scary to be an entrepreneur. I found a great mentor in Mike Willis."
Working as a full-time artist keeps Jennifer busy, as her skills are part of the services the design studio offers but she also makes time for serving as a mentor herself.
"Doing murals gives me a community connection and I love working with students," she explained. "I am currently managing an apprentice program with Children First for children and families in east Bakersfield. The Lake Street Beautification Project involves three selected apprentices so they can learn the ins and outs of the mural process. It is a collaborative art project that will likely wrap this spring, weather permitting."
Murals became a regular part of Jennifer's life size portfolio through her passion for painting. While she describes her habit of painting as constant in college, her career became characterized by computers, digital art and a lot of sitting. After her daughter was born, Jennifer felt a kind of longing to return to painting. A Bakersfield Museum of Art public project called Driven by Art in 2016, which featured fiberglass truck replicas placed around town, was what pointed her to murals.
"One opportunity led to another and I am still surprised when people ask me to paint a mural," she laughed, even as her art continues to be widely recognized as it graces public spaces in Kern County.
Jennifer describes her approach to work/life balance as something she continues to figure out and modify as needed.
"I am so passionate about what I do. It can absorb every aspect of my life but I am learning how to balance being a wife and a mother and a professional artist. I joked at the beginning of the year that my word for 2023 is 'no' but it's true. Not everything is supposed to be for me and I need to carve out time for my family," she said. "I have a great support system. Both of our mothers live in town and we have great friends."
Building community and cultivating strong friendships are part of her recommendations for fellow parents.
"Everybody needs people to cheer them on in big things but also in small things," she said. "People need others to talk to and have relationships with, in addition to knowing what gives you joy. I have gotten better at knowing what that is for me but being conscious of not giving up what I love because I am a mom. I want my daughter to see me doing things I love. It can be incredibly hard to find time for what does give you joy but I have found I can also include her in the process now that she's getting older. Although each parenting phase is hard in a different way and I totally understand feeling like each issue lasts forever when you're going through it, you blink and it's over. You really have to be sure you are not giving up who you are and you are maintaining your identity as a person."
While mother and daughter enjoy art activities together, they also have fun in other ways.
"We love to be outdoors, travel and see things. Being in nature, hiking and visiting national parks is something our family really enjoys," said Jennifer, who describes her interests and those of her daughter as diverse.
Jennifer credits her mother with sparking her interest in art and showing ways to be creative through household experiences like sewing and making the most of community opportunities.
"We were always building, making, creating, with our mom," she recalled.
Learning to draw at a library art class her mother took her to as a young child is something she recalls fondly, a place where she learned to draw rabbits in a way that has stayed with her even as a commercial artist.
While encouraging creativity is important in the Williams-Cordova household, it takes a more open-ended approach than might be assumed.
"At home, I try really hard not to stifle creativity. I tell my daughter there is no wrong way to do art. Creativity is not used up," she said. "The lesson I want her to get is that she can create and it's endless. It doesn't have to be perfect. As long as she has something she loves, I am totally open to that. If it stays art, that's fine but I want her to have something that brings her joy."
Jennifer's recommendations to other parents interested in arts opportunities for their children, especially as STEAM (science, technology, engineering, art and math) continues to gain traction as an educational emphasis, reflect a similar approach.
"I always encourage parents to provide opportunities for children to be interested in art and explore for themselves. We tend to want to guide every aspect but open creativity and seeing what happens is better," she reminds. "Be okay with the mess and with letting them figure it out. Although we are releasing a certain amount of control, that is what allows children to make mistakes and figure something out. I have noticed some children crave structure but providing the right amount of structure so they don't feel overwhelmed but knowing when to back off is important. Kids are so naturally creative. The challenge is to keep them that way."
Jennifer also recommends tapping into Bakersfield's flourishing arts community, from studio artists to local film. With mentors like her who also parent, art will continue to flourish in Bakersfield for generations to come. Find her work showcased on Instagram at @jenwillco.
THREE RECOMENDATIONS FROM JENNIFERQ. Do you have any hidden talents? What's something I would never guess upon meeting you?
A. I'm a visual artist so my talents aren't very hidden but one thing people wouldn't guess is that I was a pretty athletic kid. Basketball was my sport then but now I love endurance sports. I've climbed Mount Whitney twice and staying physically active really helps with the mural work. People don't realize how physical it is to paint murals. I have to stay healthy for that aspect of my job.
Q. What is your parenting PSA?
A. There isn't just one way to be a good parent. In fact, there's always more than one way to do something. If you love the person your child is becoming, trust in your own parenting process. Don't always feel like you have to compare. What you are doing works for you.
Q. What should families in the Kern County area know more about in their community?
A. Get to know our thriving creative community Bakersfield. There are great arts opportunities, including studio artists as part of our vibrant and active art scene, which also features music and live theatre. There are so many programs and resources for kids to start exploring their creative passions and express those in new ways.